PrimeNG 4.0.0-RC1 Released with Barcelona
PrimeTek is please to announce the first release candidate for PrimeNG 4 featuring first class support for Angular 4, DragDrop for Tree, quality improvements and the all-new Barcelona Material application template seed based on Angular CLI.
Angular 4
PrimeNG 4 fully supports Angular 4, migration is easy as replacing the version. Note that Angular 4 has changed the package for animations and deprecated template tag in favor of ng-template so you need to do these changes in your application. There is nothing to change regarding PrimeNG components.
DragDrop for Tree
Reordering nodes within a tree or between multiple trees is now supported, see the live demo for details. Other notable improvements for tree include configuration selection propagation and ability to define selection at node level.
Immutable DataTable
DataTable has new immutable mode which is used to avoid diff checking to realize if underlying data changed. When immutable mode is true, at application side, when you are making changes to the bound data, a new array instance needs to be created so that DataTable can get notified. Overall, this mode add significant performance gain.
Full Changelog
Here is the changelog containing the details for all the 25+ enhancements.
Barcelona Template
Barcelona is a fully featured native Angular application template based on Angular CLI, so instead of the "App Works" text that CLI provides, Barcelona provides a professional application template created by us fully utilizing PrimeNG components.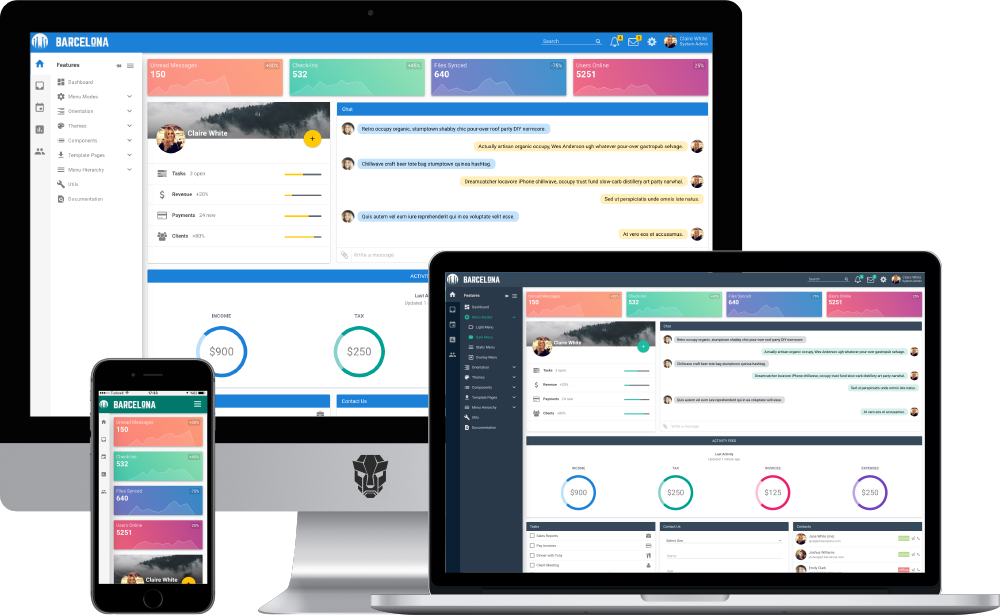 Ultima Update
Ultima material template is also updated to latest versions and includes defect fixes. Poseidon and Omega will be updated by the end of this week.
Roadmap
There will be one more RC that focuses on PRs and Defect fixes next week, we'll wait for Angular 4 to be finalized before releasing PrimeNG 4. Checkout our roadmap for the upcoming features.
Upcoming Events
At the beginning of April, we'll be at two events; at NG-Conf as a sponsor in Salt Lake City and also at AngularBeers Community Day in Barcelona.
Always bet on Prime!